# WIRED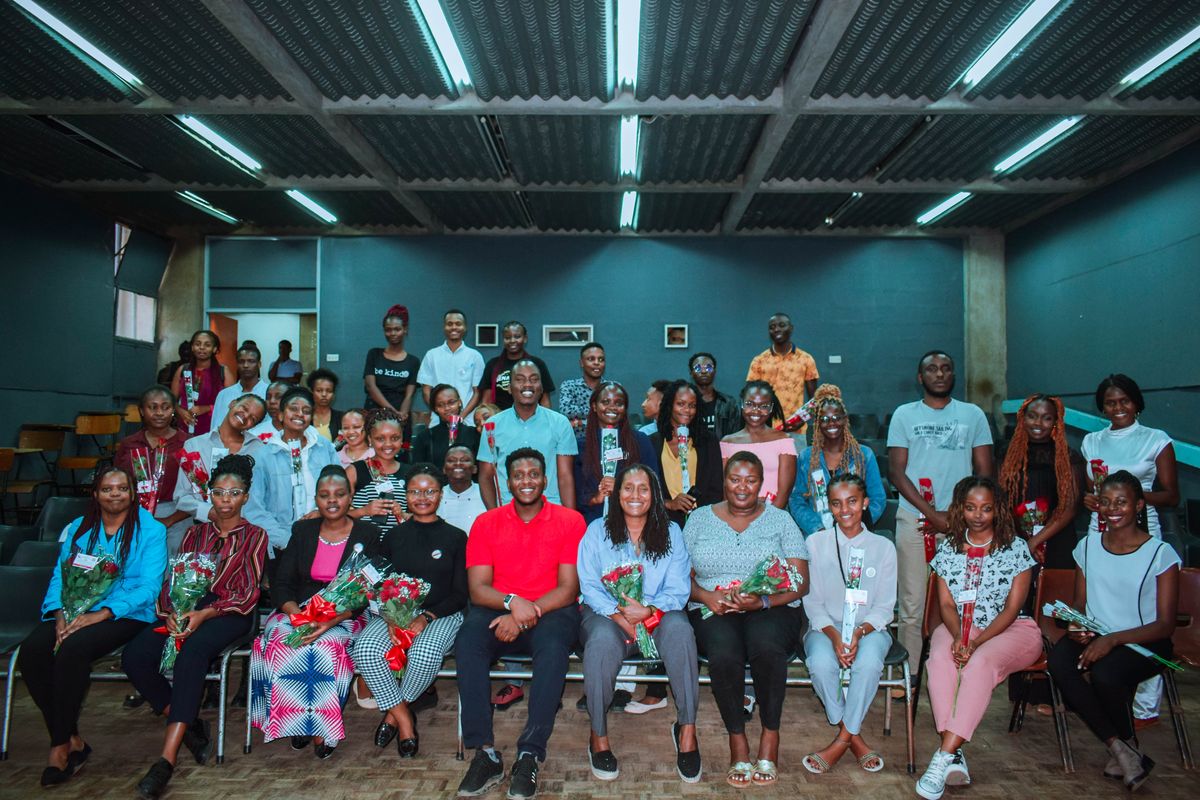 CRESAlentines
March has been good to us CRESArians, quite good indeed. We had the pleasant opportunity to host WIRE(Women in Real Estate) and hear from them on Building Capacity for Women to participate in the Built Environment. I always say you had to be there, oh and you had to. Before I put in the picture of the beautiful flowers and musical performances, let me first take you on the ride that was on the 15th of March, down in space 108 of ADD Hall. Now, I don't know about you, but I enjoy greatness, and that is exactly what was delivered to us on the floors of that hall that afternoon.
Gracing us was the WIRE team which included their former president and author of Building in Kenya Robyn Emerson, their current president Engineer Esther Segero, their youth board president Harriet Omondi, their communications officer Faith, and two other members Wairimu and Susan. I mean just listen to that lineup! We were honored to have the opportunity to take a bite out of these brilliant minds.
I know you're dying to find out how the talk went, and what we learned, but hold your horses. We still have yet to touch the tip of the iceberg that CRESA had prepared for us that day. Our wonderful MC Yvonne was very charismatic and the entire room was chuckling before the event started. I hope she is keen to pursue a career along those lines because she was a most spectacular host. After a brief talk from Susan on her experiences as a woman in construction and the search for knowledge, took to the stage a member of CRESA, who read us a spoken word poem that tugged at our very heartstrings.
"There is no fire in her eyes, fire that once burn like rum on fire
Just iced out words and eyes full of damaging despair
If she's graceful, then why cause her pain?
If she's beautiful, why kill her joy?" --@alpaca
With her words still ringing strongly in our ears, Robyn took to the stage to introduce herself and her team. Robyn is a well-spoken lady, with a deep well of knowledge and wisdom that she was eager and willing to share. She posed us with a very important question, what are we using our skills for? What are we truly using our knowledge and skills for? All this knowledge we have, how can we use it for the betterment of society? She also slapped us on the face with some hard cold facts. We drew the statistics of the number of women currently working in the built environment. Between graduation and the current workforce in the industry, the gap is quite substantial. Did you know that only 8% of women are architects and an even staggering 3% are engineers? We were all speechless. You know it's bad, but hearing the numbers in real-time? We have a crisis. A lack of perception and sensitization of women to the built environment careers is largely to blame for the extremely low, and worrying numbers. However, all is not lost, and the Women In Real estate association strives to push women out there into a field that has previously been known for and dominated by men.
Taking over from Robyn was Harriet, the youth board president. And what an inspiration to all of us students. As an engineering student, she still manages to carry out her presidential mandate with WIRE. Harriet told us all about her experiences with WIRE and the achievements she has achieved whilst being young are astonishing. She has sat in halls with great women in this country. We got to hear about all the rooms WIRE has allowed her to walk into.
Hotly following Harriet, we had a presentation from Wairimu Caroline, a quantity surveyor. Her expression and articulation had us all glued to the presentation. She inspired us as she shared with us her feats so far, her journey since graduating in addition to her experiences as a woman in construction, and how WIRE has opened her up to a whole new world. Humorously interjecting here and there throughout the afternoon was Engineer Esther and we got to hear about her achievements as well as her encounters and adventures. It was truly delightful to hear from these amazing women.
Before we got into the Q and A session, we had a breathtaking flute performance by Charity Mwabu. If you missed that, I feel sorry that your ears have yet to be blessed by such angelic notes. The entire hall was pin-drop silent as the notes to 'Can you feel the love tonight' danced through the air, mesmerizing us all. I, for one, was entirely bereft of speech. Oh yes CRESA, we could definitely feel the love. Refreshments were handed out, it felt good to take a long swig of soda after an intense afternoon.
Meanwhile, members were preparing to cross-examine and interrogate our panelists. The session was quite captivating and engaging. We got to hear and learn from them valuable wisdom on how they have been able to make it into the formidable women they are. Discipline, time management, and self-awareness are some of the takeaways. 'Balance is a myth', is a statement that was finely imprinted into my mind.
WIRE being a 'girl's club', we got to hear about how the boy child can support too. Through sponsorship, mentorship, and above all, having these conversations in the industry and helping with sensitization of women in construction.
Mind you, I haven't even gotten to the best part of this afternoon yet. Or, well, by now, it was evening. Time had flown by, the hours had felt like mere minutes.
The finance secretary Kagwe burst into the room with a carton full of flowers. We totally swooned. Beautiful, bouquets of red, enchanting roses were graciously presented to our guests and you could see from their faces they entirely felt the love. Every single person got a rose (I even got three, don't tell) with a personalized message from the CRESA TEAM.
"We at CRESA believe that every month is a month of love. We, therefore, take this time to appreciate you"
What a beautiful message. I was dazed, at a loss for words. There aren't words sufficient to describe how perfect of an afternoon that was. We at CRESA are grateful to host these elegant, graceful professionals of WIRE, and everyone who attended the talk. It was truly marvelous, and we are very ready for what CRESA has planned for us next 🙂
-Wairimu Ngotho
Photo credits: Benjamin Wahagi